Pats Week Ten.

3 Things For Sunday: Part II.

Greatness Revealed.

By TOM
Joe Borrow is the best player in this Draft! His game against Alabama, in Alabama, was one of the all time great games. His precision passing against one of the top defenses in the SEC was amazing. His ability to get up and complete the next pass was NFL QB like. You have to be able to take the head spinning hit, get up, and complete the next pass in the NFL. He took some freight train hits, and not one seemed to bother him.
That was as mistake free a game by a QB as you will ever see. "That was... uh... that was pretty special," Burrow said about being lifted up on the shoulders of his teammates and paraded around. "Having these guys embrace me the way they have, just some quarterback from Ohio who came in June of last year." He faltered a little in the 4th,
But quickly regained his composure and drove them downfield for another TD with 10-minutes left. "I don't vote (for the Heisman). But if I got a vote, I would vote for him. I promise you that." LSU HC Ed Orgeron said. "I do believe he's as good, for sure, or better than the quarterback we're playing. But the only way to answer that is on the field." He meet every challenge you can face on the field, and the Stats were Heisman worthy.
In a true battle of the Titan Defenses, Borrow started off with 13 straight competitions, and was 18 of 20 for 252 and 3 TDs in the 1st Half against Alabama's great D! If that isn't a Heisman half I don't know what is, except maybe his 2nd Half. He kept hitting his receivers and making every right throw over and over, with perfect placement. His ability to read the D and get to his 3rd option was NFL ready. His ball placement on his passes is the best I've seen in the FBS.
He embarrassed a top three Defense in the FBS "The way the half ended... terrible," Alabama HC Nick Saban said. "To let them score two touchdowns in the last 30 seconds of the half is ridiculous. And makes a big difference in the game, and (in how) you have to play the game in the 2nd half." He made the routine plays, and the big plays almost every time they needed him to.
What him so impressive is that the Alabama defense tried every trick in the book to hit him, and they did hit him repeatedly. "Their quarterback is a really good player," Saban said. "I thought we did some pressure on him a couple of times, but we didn't finish on him a couple of times on sacks that we had a chance to get." He was not playing in a clean pocket all game with 5 to 10 second to throw every down.
He has to make quick decisive throws with pressure coming, and do his reads and progressions, and they used a ton of blitzes to try to get to him and confuse him, and had six DBs on the field a ton, and none of it mattered. "I think he has, talking about the quarterback now, Joe has a really good handle on what they're trying to do," Saban said. "It's challenging to defend. It utilizes the people that they have. Look, they have no weaknesses on offense. They've got a really good runner. They got a really good quarterback. They got really good receivers. They got a good offensive line. They got a system and a scheme that is very sound and solid in terms of (fundamentals) and they do a really good job executing.
"I can't give them enough credit for what they do. It's nothing like what they tried to do a year ago. It's completely different and I think it features their players. I think their players buy into it, have confidence in it and do a great job executing it. I felt like that going into the game and I certainly feel just as strongly now about that after having played them."
Mentally, Borrow was the best player in college football against maybe the best Defense in college football "(They) did a lot of check with me's out there. Give the hands, see what you're in, try to run the best play," Saban said. "The only disappointment that we had is we want people to do their job. There were a few occasions where, whether it was a miscommunication or maybe a player didn't take the quarterback when he was supposed to on a zone read, or we didn't play the gaps exactly right. We didn't cover them correctly. We had a couple of busts in the secondary that were very critical." So mentally Borrow was going through two or three plays on almost every snap, and executing at over a 90% rate.
He was by far the best player in college football last Saturday night. Before the game I was working on my Player Ratings a little, and I had Borrow as the top pick because he is the QB, and Chase Young as the best player in the Draft. That is no longer true. Borrow is the best player in the Draft regardless of position, and Young is second.
And I think Young's four game suspension is a positive for his rating:
: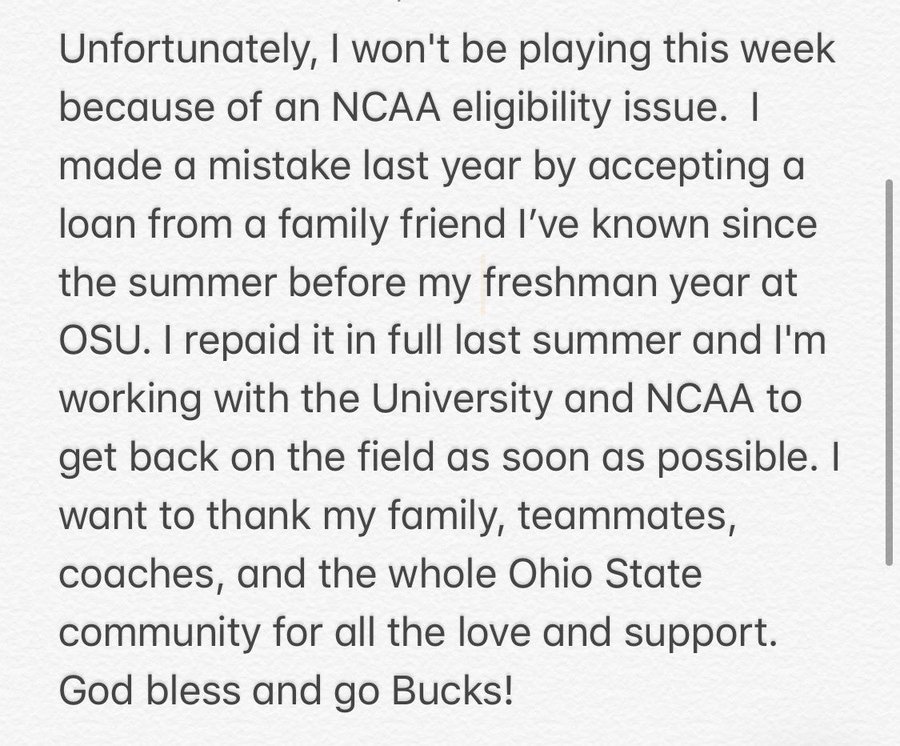 Because Young has nothing left to prove this season. His sitting out protects him from injury and gives his body some extra rest. He has nothing left to prove at Ohio State. The last thing he needs is too get injured. He should pull a Nick Bosa, and take off to make sure he doesn't get injured and prepare for the Draft. He is already a lock to be be the 1st Non-QB Drafted in the 2020 Draft.
Meanwhile, Borrow is already the first player to be drafted in the 2020 Draft. There is really no argument left after that game against Alabama, in Alabama, his stats were a Heisman winning: 31 of 39 for 393-yards, 3 TDs, and no INTs. AND MOST IMPORTANTLY! THIS WAS NOT AN ABERRATION.
He had completed 78.8% of his passes coming into the Alabama game. "Joe Burrow on throws of 20+ yards this year: - 22-of-35- 62.9% completion- 745 yards- 11 TD- 1 INT- 134.9 Rating" That is just stunning.
Be A Citizen! Not a Subject!
Fascist is as Fascist does. Beware American. President Fredo is pulling the cowardly republican Senate closer and closer to the cliff.
Amendment I. Congress shall make no law respecting an establishment of religion, or prohibiting the free exercise thereof; or abridging the freedom of speech, or of the press; or the right of the people peaceably to assemble, and to petition the government for a redress of grievances:
#
The 1st Amendment to the Constitution is the greatest paragraph ever written by mankind. It is the truest diagram of how to ensure a free Country of citizens survives. But is is also a list of what to attack when you want to be a fascist dictator. President Jerkballs is attacking every article in the 1st Amendment. Beware subjects, or you will be subjugated:
#
Let's be clear,
"I F-ing Did it."
Trump did it.
Admitted it! And is proud of it.
EVERYBODY KNOWS IT.
And the Treasonous Administration keeps illegally not complying to legally given Subpoenas. Which is spitting more crimes right in the face of all Americans!
"Mark Sandy, a senior career official at the Office of Management and Budget, was subpoenaed today to testify in the impeachment inquiry."
"In light of an attempt by OMB to direct Mark Sandy not to appear for his scheduled deposition, and efforts to limit any testimony that does occur, the House Intelligence Committee issued a subpoena to compel his testimony," an official working on the impeachment inquiry told CNN.
"As required of him by law, Mr. Sandy is complying with the subpoena and answering questions from both Democratic and Republican Members and staff."
More on the impeachment inquiry and Sandy: The impeachment investigation is focused on whether President Trump and his allies withheld funding for Ukraine's military, which is fighting a Russian invasion, while seeking a political favor from the country's president.

Sandy is expected to have insight into internal conversations when the administration was taking the unusual step of freezing the funding.
So Trump just keeps ordering Crime-ing with impunity!
Can you imagine if you or I refused a Lawful Subpoena?
Jail time Baby!
https://www.youtube.com/watch?v=IVvFn0W7ZLE
Read the books that support the Website that supplies the best Draft information from a Patriots perspective. As thousands of fans have already done and enjoyed.
Email me if you'd like a question: